We carry a number of toilet, fresh water, grey water, and black water chemicals, along with portable waste holding ("tote") tanks.

Popular brands

include Captain

Phab

,

Walex

, Pure Power Blue, and Aqua-

Kem

. 

 
Click on the PART NUMBER to add parts to the "Your Saved Parts" to request a quote.
 Disclaimer: Images may not always be accurate to the part #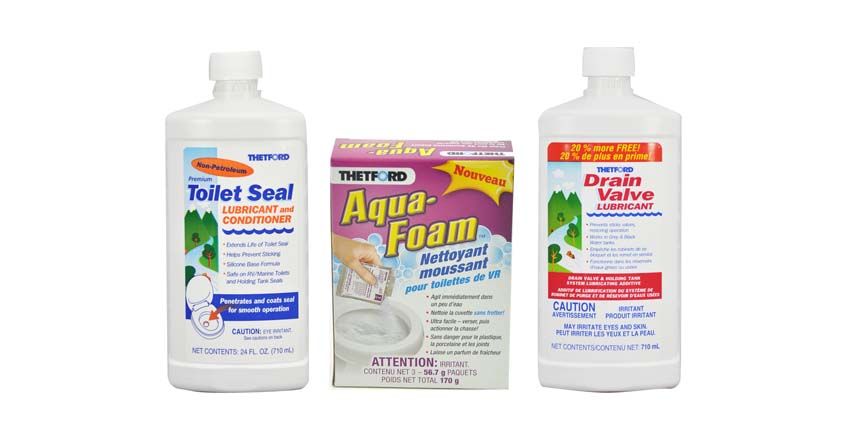 | | |
| --- | --- |
| PART NUMBER | DESCRIPTION |
| 28382 | Thetford Toilet Seal Conditioner, 20oz |
| 36663 | Thetford Toilet Seal Lubricant, 20oz |
| 27415 | Thetford Drain Valve Lubricant, 24oz |
| 21308 | Thetford Aqua Foam RV Toilet Cleaner, 3PK |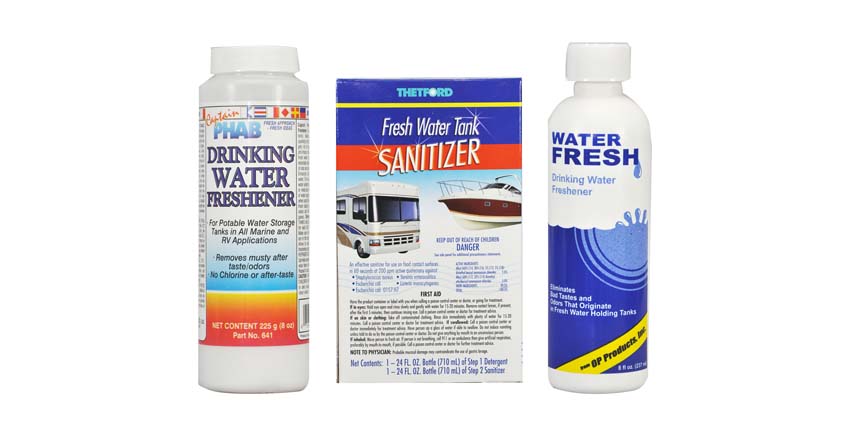 Fresh Water Tank Chemicals
| | |
| --- | --- |
| PART NUMBER | DESCRIPTION |
| 28380 | Thetford Fresh Water Tank Cleaner, Sanitizer, 24oz/Bottle |
| 12-5003 | Captain Phab Purge Dry Tank Cleanser, Very Effective On A Wide Variety Of Stains & Odors, 16oz |
| 812-48 | Captain Phab Drinking Water Freshener, 225g |
| 41753 | Valterra Water Refresher, 8oz/Bottle |
| 28011 | Valterra Drinking Water Freshener, Chlorine-Free, Non-Toxic, 12oz/Bottle |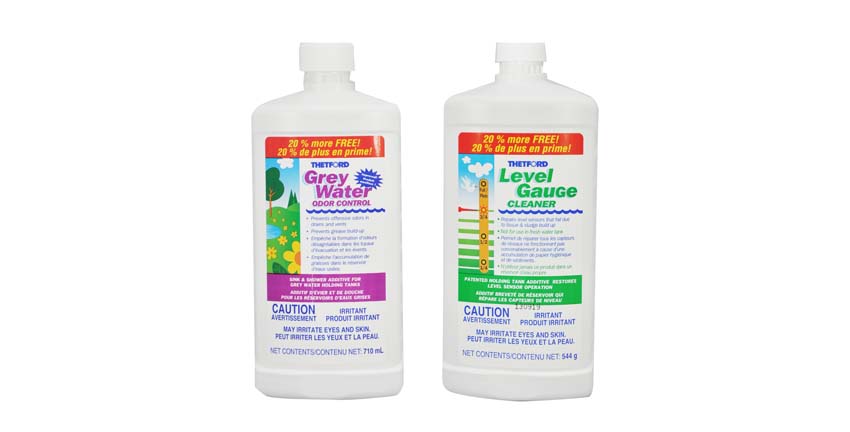 Grey Water Tank Chemicals
| | |
| --- | --- |
| PART NUMBER | DESCRIPTION |
| 27414 | Thetford Grey Water Odor Control, 24oz/Bottle |
| 27416 | Thetford Level Gauge Cleaner, 24oz/Bottle |
| 24545 | Thetford Level Gauge Cleaner, 19oz/Bottle |
Black Water Tank Chemicals
| | |
| --- | --- |
| PART NUMBER | DESCRIPTION |
| 20191 | Walex Bio-Active Treatment Waste & Tissue Digester, Reduces Scale Buildup In Plumbing Lines, Pipes, & Holding Tanks, 40oz/Bottle |
| 20324 | Pure Power Blue Waste & Tissue Digester, Cleans & Lubes Valves, 100% Biodegradable, 32oz/Bottle |
| 10-5128 | Pure Power Blue Drop-Ins, 12 Pack |
| 28715 | Satellite Aqua-Toss In Waste & Tissue Digester, 12 Drop-In Packets |
| 27104 | Thetford Tissue Digester, 19oz/Bottle |
| 15844 | Thetford Waste Holding Tank Treatment Tissue Digester, 19oz/Bottle |
| V23002 | Valterra Blue Power Liquid Waste Digester & Odor Eliminator, 32oz/Bottle |
| 20367 | Satellite T-5 Squeeze & Pour Toilet Treatment, 8oz/Bottle |
| 27108 | Aqua-Kem Dri Holding Tank Deodorizer & Waste Digester, 20oz Packets |
| 27401 | Aqua-Kem Liquid Holding Tank Deodorant, 6 X 237ml Bottles |
| 28304 | Aqua-Kem Qt Powder Fresh  Waste & Tissue Digester, Eliminates Odors, 32oz/Bottle |
| 28219 | Walex Bio-Pak Tank Deodorizer, Ideal For RVs, Boats, & Septic Tanks, 32g/Packet |
| BIO-72240 | Walex Holding Tank Treatment, 40oz/Bottle |
| 36568 | Aqua-Kem Liquid Holding Tank Deodorizer & Waste Digester, 19oz/Bottle |
| 20720 | Aqua-Kem Dry Holding Tank Deodorizer, 2oz/Packet |
| 03106 | Aqua-Kem Liquid Holding Tank Deodorizer & Waste Digester, 8oz/Bottle |
| 24545 | Thetford Level Gauge Cleaner, 19oz/Bottle |
| 10-5047 | Commando Black Tank Cleaner, 4 Pack |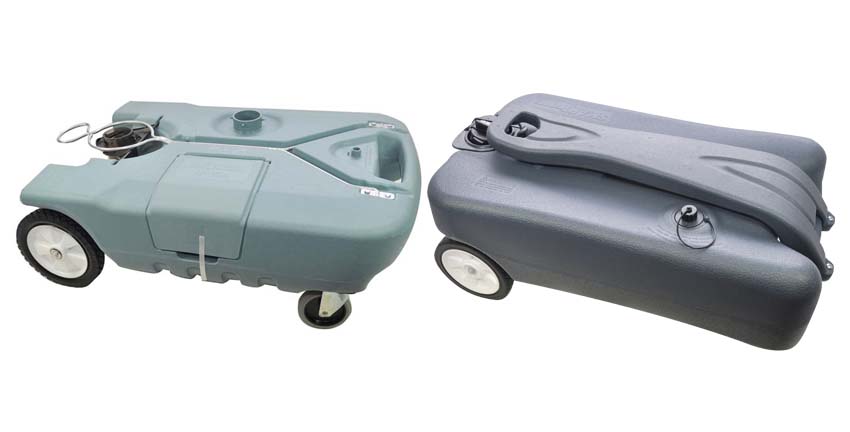 Portable Waste Holding Tanks
| | |
| --- | --- |
| PART NUMBER | DESCRIPTION |
| 11-7002 | Portable Waste Holding Tank, 15 Gal., 2 Wheel |
| 25607 | Portable Waste Holding Tank, 15 Gal., 2 Wheel |
| 11-7007 | Portable Waste Holding Tank, 16 Gal., 4 Wheel |
| 28492 | Portable Waste Holding Tank, 18 Gal., 4 Wheel |
| 11-7003 | Portable Waste Holding Tank, 22 Gal., 4 Wheel |
| 20123 | Portable Waste Holding Tank, 25 Gal., 4 Wheel |
| 11-0704 | Portable Waste Holding Tank, 32 Gal., 4 Wheel |
| 11-0709 | Portable Waste Holding Tank, 42 Gal., 4 Wheel |

PART NUMBER
DESCRIPTION
11-1334

Contains: 10' Sewer Hose, Orange Power Drop-Ins, 10' Drinking Water Hose, 15A Male to 30A Female Adapt., RV Wash and Wax, 1-ply Toilet Tissue (4/pack)

K88122

Contains: 10' Sewer Hose, 2 Toilet Treatments, 30/15 Amp Adapt, Bag of Disposable Gloves, 4 Pack of Toilet Tissue

11-1300

 

Contains: 10' Sewer Hose, 25' Drinking Water Hose, 30/15A Adapt, 2 Toilet Treatment, 1 Roll of Toilet Tissue, Bag of Disposable Gloves